The Undersecretariat for Fisheries and Aquaculture
The Undersecretariat for Fisheries and Aquaculture is a public institution that belongs to the Ministry of Economy, Development and Tourism. Its mission is to regulate and manage fisheries and aquaculture activities through management policies, regulations and measures supported by technical reports based on scientific research and social and economic variables. This mission has a participatory and territorial approach aimed at the sustainable development of the national fisheries and aquaculture activity.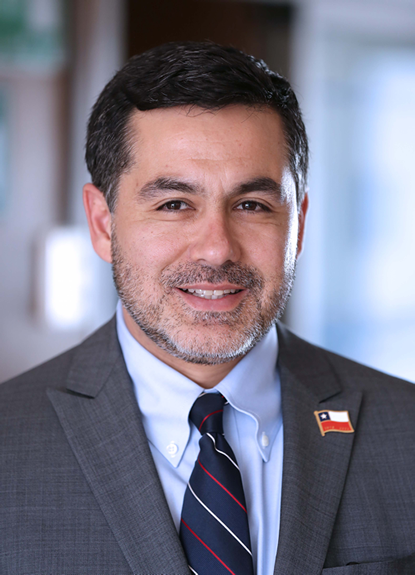 In order to fulfill its regulatory role, the Undersecretariat for Fisheries and Aquaculture, SUBPESCA, is composed of 150 officials with its headquarters located in Valparaíso, as well as an office in Santiago for inter-institutional coordination, therefore enabling a close relationship with the Ministry of Economy, Development and Tourism. It also has eight Regional Directorates located throughout the country.
Eduardo Riquelme Portilla was born in 1975. He holds a degree in Law and a PhD in Law from the Universidad de Navarra (Spain). He is also a specialist in criminal law.
During the first term of President Sebastián Piñera, he held three positions as Head of the Division of Political Affairs from the Ministry General Secretariat of the Presidency (Segpres); Head of Cabinet of the Ministry of National Defense; and advisor of Segpres' Legal and Legislative Division.
He was the attorney of the Legal Department at Viña del Mar Municipality and later on he worked as lawyer of such municipality. He also holds diplomas from Andres Bello and Alberto Hurtado universities in criminal law. He continued studying in Spain, at the Universidad Pompeu Fabra, where he undertook PhD studies (2005-2006) and obtained a diploma.
Eduardo Riquelme worked as a public defender and also for several law firms. Regarding education, he worked as a Professor of Criminal Law at the Universidad Adolfo Ibañez and has delivered academic lectures at Chilean and foreign institutions. He will soon defend his thesis to obtain the PhD in Law.